Introduce this Module:
The DS1210 Nonvolatile Controller IC Chip is a CMOS circuit which solves the application problem of converting CMOS RAM into nonvolatile memory. Incoming power Supply is monitored for an out-of-tolerance condition. When such a condition is detected, IC chip enable is inhibited to accomplish write protection and the battery is switched on to supply the RAM with uninterrupted power. Special circuitry uses a low- leakage CMOS process which affords precise volt detection at extremely low battery consumption.
Some Core Parameters of the Module:
SPECIAL FEATURES :
● Converts CMOS RAMs into Nonvolatile Memories
● Unconditionally Write Protects when VCC is Out-of-Tolerance
● Automatically Switches to Battery when Power-Fail Occurs
● Space-Saving 8-Pin DIP
● Consumes <100nA of Battery Current
● Tests Battery Condition on Power up
● Provides for Redundant Batteries
● Optional 5% or 10% Power-Fail Detection
● Low Forward Voltage Drop on the VCC Switch
● Optional 16-Pin SOIC Surface Mount Package
● Optional Industrial (N) Temperature Range of -40℃ to +85℃
How it Uses in the work:
DS1210 Pinout Connections: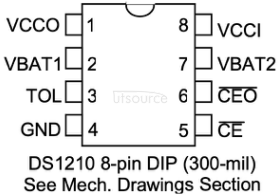 DS1210 Pin Functions:
● Pin 1(Vcco) – RAM Supply
● Pin 2 (VBAT1) – + Battery 1
● Pin 3 (TOL) – Power Supply Tolerance
● Pin 4 (GND) – Ground
● Pin 5 CE – Chip Enable Input
● Pin 6 CEO – Chip Enable Output
● Pin 7 VBAT2 – + Battery 2.
● Pin 8 Vcc1 – + Supply
ABSOLUTE MAXIMUM RATINGS:
● The voltage on Any Pin Relative to Ground -0.3V to +7.0V
● Storage Temperature 0℃ to +70℃, -40℃ to +85℃ for N parts
● Operating Temperature -55℃ to +125℃
● Soldering Temperature See IPC/JEDEC J-STD-020A