BQ4847YMT – RTC Module description
The BQ4847YMT Real Time Clock Module is a low-power microprocessor peripheral that integrates a time of-day clock, a 100-year calendar, a CPU supervisor, a battery, and a crystal in a 28-pin DIP module. RTC means Real Time Clock. Real Time Clock modules are simply TIME and DATE remembering systems which have battery setup which in the absence of external power keeps the module running. This keeps the TIME and DATE up to date. So, we can have accurate TIME and DATE from the Real Time Clock module whenever we want.
Pin Configuration and Their Functions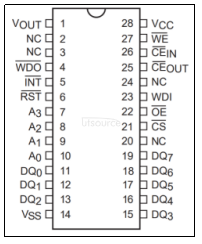 RTC Module - BQ4847YMT specifications and features
● RTC counts seconds through years in BCD format
● 10% Voltage Tolerance
● Integrated battery and crystal
● On-chip battery-backup switchover circuit with nonvolatile control for an external SRAM
● 130mAh battery capacity
● ±1 minute per month clock accuracy
● In backup mode the clock operation current is less than 500nA
● Microprocessor reset is valid to VCC = VSS
● Independent watchdog timer with a programmable time-out period
● Power-fail interrupt warning
● Programmable clock alarm interrupt is active in battery-backup mode
● Programmable periodic interrupt
● Battery-low warning
Working principle of RTC Module - BQ4847YMT
The RTC Module BQ4847YMT contains an internal battery and crystal. By using the conditional chip enable output (CEOUT) and battery voltage output (VOUT) pins, the device BQ4847YMT can write protect and make nonvolatile an external SRAM. The backup cell powers the real-time clock while maintaining the SRAM information in absence of the system voltage. The RTC module BQ4847YMT can work on +5V regulated power and working on a higher voltage may damage the module.
Block diagram shown below describes the function of RTC Module BQ4847YMT. The device BQ4847YMT is functionally equivalent to the device BQ4845 except that the battery (20, 24) and crystal (2, 3) pins are not accessible. The pins are connected internally to a coin cell and to a quartz crystal. The coin cell provides 130mAh of capacity. It is isolated internally from the VOUT and CEOUT until the initial application of VCC. When VCC rises above VPFD, this isolation is broken, and the backup cell provides power to VOUT and CEOUT for the external SRAM. The real-time clock keeps time to within one minute per month at room temperature. For a complete description of features, operating conditions, electrical characteristics, bus timing, and pin descriptions, see the BQ4847YMT data sheet.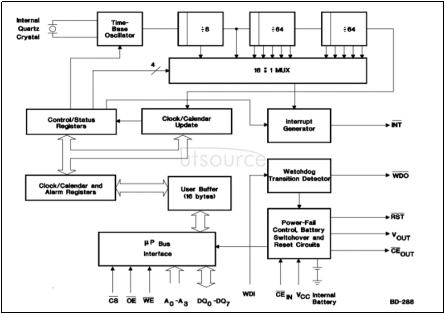 Functional Block Diagram of BQ4847YMT
Application of RTC Module - BQ4847YMT
Though the RTC Module BQ4847YMT is not recommended for new designs it is used in applications where an accurate time and date are needed. The part is ideal for applications such as:
· Fax machines
· Copiers
· Industrial control systems
· Point-of-sale terminals
· Data loggers
· Computers