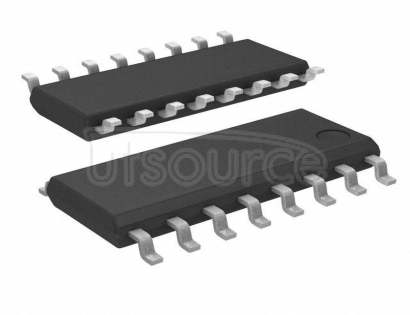 Vendite:772
Preferito
CD74HCT423M96
USED
Utsource certified used parts
Le parti usate certificate Utsource offrono le seguenti garanzie:
1. Utsource ispezionerà le merci, compresa l'ispezione dell'aspetto (nessun danno grave all'aspetto), selezionerà fornitori qualificati e onesti e garantirà un tasso di qualificazione del 98%.
2. Alcune parti sono testate dalla macchina.
3. Le parti certificate Utsource possono essere restituite e rimborsate incondizionatamente entro 60 giorni.
La descrizione del prodotto
74HCT Family Monostable Multivibrators, Texas Instruments Texas Instruments range of Monostable Multivibrators from the 74HCT Family of CMOS Logic ICs. Inputs of the 74HCT family are 74LSTTL compatible, and the products use silicon gate CMOS technology to achieve operating speeds similar to the LSTTL family but with the low power consumption of standard CMOS integrated circuits. High-Speed CMOS Logic Operating Voltage 4.5 to 5.5 V Compatibility: Input TTL, Output CMOS
Famiglia logica:

HCT

Marca:

Texas Instruments

Pacchetto / caso:

SOIC

Funzione logica:

Monostable Multivibrator

Numero di elementi per chip:

2

Massima corrente di uscita di alto livello:

-4mA

Corrente massima di uscita a basso livello:

4mA

Durata minima dell'impulso:

20 ns

Tempo massimo di ritardo di propagazione @ Massimo CL:

68 ns @ 4.5 V

Corrente di riposo massima:

0.008mA

Tipo di montaggio:

Surface Mount

Tipo di pacchetto:

SOIC

Numero di pin:

16

Dimensioni:

9.9 x 3.91 x 1.58mm

Altezza:

1.58mm

Lunghezza:

9.9mm

Temperatura operativa massima:

+125 °C

Tensione di alimentazione operativa massima:

5.5 V

Temperatura operativa minima:

-55 °C

Tensione di alimentazione operativa minima:

4.5 V

Larghezza:

3.91mm
Tutti i nomi di prodotti, marchi, marchi e loghi utilizzati in questo sito sono di proprietà dei rispettivi proprietari. La rappresentazione, la descrizione o la vendita di prodotti con questi nomi, marchi, marchi e loghi è solo a scopo identificativo e non intende indicare alcuna affiliazione o autorizzazione da parte di alcun titolare dei diritti.
Caratteristiche del prodotto
Anteprima delle prime 3 pagine della scheda tecnica
Alcuni numeri di parte della stessa produzione
513 recensioni di acquirenti da Italy
SH SRL
Italy
GREZZAGO
Length of registration:1 years
Arc srl
Italy
modena
Length of registration:1 years
Francesco Minora
Italy
SEZZE
Length of registration:3 years
M2AF ELETTRONICA SRL
Italy
Pomezia
Length of registration:6 years
DI MICHELE ANTONIO
Italy
TORINO
Length of registration:8 years
TecnoSistemi srl
Italy
Longiano (FC)
Length of registration:8 years
EUGENIO MAZZEI
Italy
CERRO MAGGIORE
Length of registration:3 years
Farina Giuseppe
Italy
MISTERBIANCO
Length of registration:8 years
Mauro Chiorboli
Italy
Canaro
Length of registration:2 years
luca ciagli
Italy
poppi
Length of registration:2 years
See all reviews >>
Metodi di pagamento
Metodo di pagamento europeo
Metodo di Pagamento Asia
Metodo di Pagamento America
Metodo di pagamento internazionale
Processo di acquisto
Aggiungi al carrello di spesa

Aggiungi al carrello richiesta
Guida allo shopping
Ricerca correlata
Fornitore correlato
Nomi alternativi
Guida allo shopping
Ricerca correlata
CD74HCT423M96 Prezzo
CD74HCT423M96 Pdf
CD74HCT423M96 Difficili da trovare
CD74HCT423M96 Piedinatura
CD74HCT423M96 Obsoleti
CD74HCT423M96 Immagine
CD74HCT423M96 Acquista
CD74HCT423M96 Foto
CD74HCT423M96 Vendi
CD74HCT423M96 In stock
CD74HCT423M96 Ricerca
CD74HCT423M96 Distributore
CD74HCT423M96 Libretto dei dati
CD74HCT423M96 Nuova ed originale
CD74HCT423M96 Impiego
CD74HCT423M96 Serie
CD74HCT423M96 Ricambi
CD74HCT423M96 TI(Texas Instruments)
CD74HCT423M96 find
CD74HCT423M96 purchase
CD74HCT423M96 need
CD74HCT423M96 shopping
CD74HCT423M96 store
CD74HCT423M96 Economico
CD74HCT423M96 transistor
CD74HCT423M96 equivalent
CD74HCT423M96 Componente elettronico
CD74HCT423M96 74HCT Family Monostable Multivibrators, Texas Instruments Texas Instruments range of Monostable Multivibrators from the 74HCT Family of CMOS Logic ICs. Inputs of the 74HCT family are 74LSTTL compatible, and the products use silicon gate CMOS technology to achieve operating speeds similar to the LSTTL family but with the low power consumption of standard CMOS integrated circuits. High-Speed CMOS Logic Operating Voltage 4.5 to 5.5 V Compatibility: Input TTL, Output CMOS
Fornitore correlato
Nomi alternativi
CD74HCT423M96
CD74HCT423M96 ha diversi marchi in tutto il mondo che possono avere nomi alternativi per CD74HCT423M96 a causa di differenze regionali o acquisizioni. CD74HCT423M96 può anche essere noto come i seguenti nomi: