Features
● VCBO Collector-base voltage Open emitter 200V
● VCEO Collector-emitter voltage Open base 200V
● VEBO Emitter-base voltage Open collector 5V
● IC Collector current 15A
● IB Base current 1.5A
● PC Collector power dissipation TC=25℃ 150W
● Tj Junction temperature 150℃
● Tstg Storage temperature -55~150℃
Description
Transistor is a semiconductor device that is used for switching or amplification of electrical signals and have at least three terminals. Power transistors are devices which are designed to withstand large currents and are thus used in power intensive applications.
2SC3281 is a silicon NPN power transistor. Transistors are generally manufactured from pure silicon or germanium however IC 2SC3281 is manufactured using silicon, these type of transistors are called bipolar junction transistors because they can conduct using both types of charge carriers. IC under reference is in NPN configuration which means it has N-type emitter, collector and P-type base.
Pictorial View
A pictorial view of the IC 2SC3281 is shown in figure below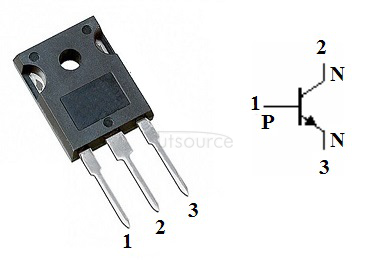 IC 2SC3281 is available with TO-3PL package and it can complement to IC 2SA1302 which is a high power PNP silicon transistor.
Pin Description
Pin description of the IC 2SC3281 is given below
| | | |
| --- | --- | --- |
| Pin | Description | Doping |
| 1 | Base | P- type |
| 2 | Collector | N-type |
| 3 | Emitter | N-type |
IC Electrical Characteristics/ Specifications
IC 2SC3281 is available as single discrete electrical component (transistor), IC can be mounted on printed circuit boards in through hole configuration. Some core parameters of the IC are given below
| | | |
| --- | --- | --- |
| Parameter | Description | Value |
| Transistor type | NPN | - |
| Material | Silicon | - |
| IC | Collector current | 15A |
| IB | Base current | 1.5A |
| Power | Max Power | 150W |
| hFE | DC current gain | 55-160 |
| fT | Transition frequency | 25MHz |
| VCBO | Collector-base voltage (Open emitter) | 200V |
| VCEO | Collector-emitter voltage (Open base) | 200V |
| VEBO | Emitter-base voltage (Open collector) | 5V |
| Tstg | Storage temperature | -55~150 |
Working Principle
Since IC 2SC3281 is a NPN transistor, transistors can be used as switching device or as an amplifier depending upon the requirement of the user. To use the transistor as switch, it has to be operated in cut-off or in saturation region of its characteristic curve, which represents the OFF and ON switch accordingly. In order to use the transistor as an amplifier it has to be so biased that the operates in the active region of its characteristic curve.
Applications
IC 2SC3281 Silicon NPN power transistor IC is widely used for the following applications
● Power amplifier
● General purpose amplifier
● 100W high fidelity audio frequency amplifier output stage
● Switching applications
As Switch
Transistors can be used as a switch, similarly IC 2SC3281 can also be used as a switch. As described earlier to use a transistor as a switch it has to be operated in cutoff and saturation region.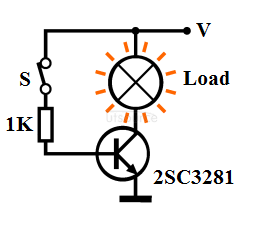 Transistor utilized as switch in grounded emitter configuration is shown in figure. When switch "S" is closed a signal is applied to base of the transistor and it begins to conduct, transistor will be operating in saturation mode. The load connected to the collector terminal of the IC 2SC3281 will being to operate. It is important to note here, since the maximum current rating of IC 2SC3281 is 15A, a load having current rating of more than 15A should not be directly used with transistor.
As Amplifier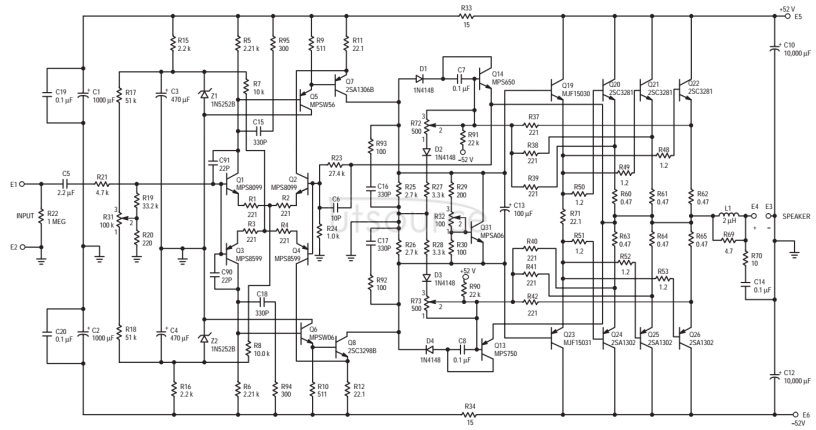 IC 2S3281 is a power transistor, it is used in high power applications specially in high power amplifiers. A 100-watt power amplifier by MOTOROLA using IC 2SC3281 is shown in figure above. The input stage of the circuit consists of the complementary pair transistors, second stage provides the initial voltage gain also called trans conductance stage and finally IC 2SC3281 is employed to achieve the power gain of up to 100watts