Description
TinySwitch-III incorporates a 700 V power MOSFET, oscillator,high voltage switched current source, current limit (user selectable) and thermal shutdown circuitry. The IC family uses an ON/OFF control scheme and offers a design flexible solution with a low system cost and extended power capability.
Features
1. Accurate hysteretic thermal shutdown protection with automatic recovery eliminates need for manual reset
2. Improved auto-restart delivers <3% of maximum power in short circuit and open loop fault conditions
3. Output overvoltage shutdown with optional Zener
4. Line under-voltage detect threshold set using a single optional resistor
5. Very low component count enhances reliability and enables single-sided printed circuit board layout
6. High bandwidth provides fast turn on with no overshoot and excellent transient load response
7. Extended creepage between DRAIN and all other pins improves field reliability
Applications
Chargers/adapters for cell/cordless phones, PDAs, digital cameras, MP3/portable audio, shavers, etc.
The TNY277PN is a highly efficient 13W off line switchers Integrated Circuit oscillator with high voltage designed fabrication of switched current source. The IC has an excellent flexibility and extended power range functions to perform. The use of ON/OFF is is flexible and low cost system shows the absolute capability of the IC to perform the working operation.
This IC is also used as a ON/OFF switch instead of the conventional Pulse width Modulator (PWM). It has a various applications with respective to the frequency set for the internal electronic data transmission. This facilitates the power regulation across the circuit and reduces the over load power consumption risk.
TNY277PN IC Circuit Diagram:
The circuit diagram of the IC TNY277PN is shown below, having the wide range of HV DC input and DC output voltage driven across the capacitors.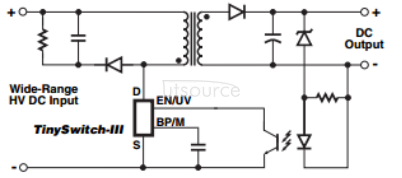 TNY277PN Circuit Diagram
TNY277PN Pinout configuration: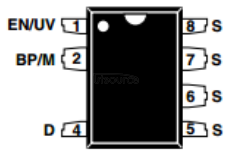 TNY277PN Pinout Configuration
| | | |
| --- | --- | --- |
| Pin | Pin Name | Pin Description |
| EN/UV | Enable Under Voltage Pin | This pin is used for the switching operation of the IC |
| BP/M | Bypass Multifunction Pin | This pin is used for the multifunction purpose for the voltage regulation |
| D | Drain Pin | This pin is used for the startup and steady state function. |
| S | Source Pin | This pin is used for the high voltage power return operation |
Key features of TNY277PN:
1. Output over regulated voltage is shutdown with the Zener diode
2. Switching ON/OFF is simple no loop compensation is required for the functioning
3. Source pins are neutral
4. High bandwidth and transient response
5. Reliable for drain voltages
6. The IC is self-biased regulated
Applications of TNY277PN: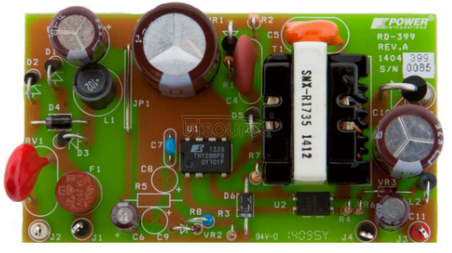 Power supply Electronic Device using TNY277PN
1. It is used in chargers, adapters of the phones.
2. Used in digital cameras
3. This IC is used in portable MP3 players
4. Shavers, trimmers for multi switching
5. It is also used in industrial and metering purposes.