Description
Voltage comparators are the circuits which are used to compare the two input voltage signals and then produce output in digital form which will be either one or zero depending upon the magnitude of the voltage applied to the inputs. Output will be zero or low if the voltage applied to negative terminal of the comparator are higher than the positive terminal and output will be one or high if the voltage at the positive terminal of the comparator are higher than the negative terminal.
LM339N is Quad voltage comparator, which means this single IC chip has four independent voltage comparator circuits and all the comparators can be operated using single power supply. IC LM339N can handle a wide range of input supply voltage ranging from 2V to 36 V. However, operation from dual supply is also possible.
Features
● Low input biasing current 25nA
● Low input offset current ±5nA and offset voltage
● Input common–mode voltage range includes ground
● Differential input voltage range equal to the power supply voltage
● Low output 250mV at 4mA saturation voltage
Pictorial View
LM339N is fourteen pin IC with plastic dual in line package (PDIP).
Pin Description
LM339N is a fourteen pin IC with four independent comparators built on it. Pin diagram of the IC is given below.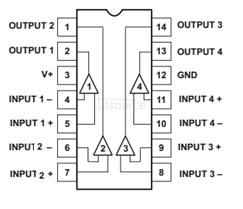 | | | | |
| --- | --- | --- | --- |
| Pin Number | Pin Name | I/O | Description |
| 1 | Output 2 | O | Output of second comparator |
| 2 | Output 1 | O | Output of first comparator |
| 3 | V+ | - | Supply voltage, Vcc |
| 4 | Input 1 - | I | Negative input to first comparator |
| 5 | Input 1 + | I | Positive input to first comparator |
| 6 | Input 2 - | I | Negative input to second comparator |
| 7 | Input 2+ | I | Positive input to second comparator |
| 8 | Input 3 - | I | Negative input to third comparator |
| 9 | Input 3+ | I | Positive input to third comparator |
| 10 | Input 4 - | I | Negative input to fourth comparator |
| 11 | Input 4+ | I | Positive input to fourth comparator |
| 12 | Gnd | - | Ground |
| 13 | Output 3 | I | Output of third comparator |
| 14 | Output 4 | I | Output of fourth comparator |
IC Electrical Characteristics/ Specifications
IC LM339N can be mounted on printed circuit boards in through hole configurations, some electrical parameters of the IC are given below
| | | |
| --- | --- | --- |
| Parameter | Description | Value |
| Vcc | Max supply voltage | 36V |
| IK | Max input current | -50mA |
| VO | Max output voltage | 36V |
| IO | Max output current | 20mA |
| PD | Max power dissipation | 1420mW |
| TA | Operating temperature | 0-70 ℃ |
Working Principle
As mentioned earlier comparators compares the two inputs and produce a digital signal to highlight which input is higher. Mathematically working of a comparator can be described as follows
VOUT = 1 or High if V+ > V-
VOUT = 0 or Low if V+ < V-
Where
VOUT = output voltage
V+ = voltage applied to the positive input terminal of the comparator
V- = voltage applied to the negative input terminal of the comparator
Applications
IC LM339N is used in variety of applications including followings
● Analog to digital converter
● Oscillators
● Multi-vibrators
● Comparators
● Peak detectors
Square wave oscillator
IC LM339N is quad comparator IC, however one or all comparator can be used depending upon the requirement. Square wave oscillator is an example of the circuit that can be designed using LM339N. Diagram of the circuit is given in the picture below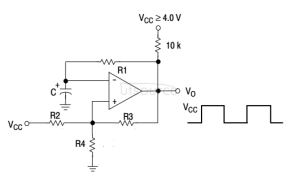 Window Detector/ Limit Comparator
A window detector circuit can be designed using two comparators circuits from the LM339N. these window or limit detector circuits are used to determine whether an unknown input is between the upper and lower specified limits for the signal. Diagram of the circuit is given below